Have you ever made Coconut Mylk?, If you have you would know it is quite the process.
You take your coconut flakes, blend it with water, then strain through a mylk bag. Sounds easy right?
Well In my experience its a little more complicated…mostly because squeezing the mylk through the mylk bag is a messy, time consuming process. I don't know about you, but when you have a busy schedule with kids, work or life in general; it can be tricky to find the time to go through the process of making coconut mylk. So unfortunately good intentions are sometimes over run by convenience.
I am always looking for ways of making things from scratch, with minimal ingredients and in a more time efficient way.
Have you heard the news?
The Light Cellar started making their own coconut butter!!!
Have you tried it yet?
If you have, you'll know what I am talking about, however; if you haven't, you'll need to make a trip in as soon as you can because it is incredible!!!
Making the coconut butter is a 7 day process; they take organic coconut flakes and stone grind them for 7 days straight!!! What?!! 7 days?!! It is this length of time that makes the flakes transform into the ultimate creamy texture and flavour that the butter has.
I remember my first bite! it literally melted in my mouth with a flavour explosion and creaminess that was unlike anything I had ever tried.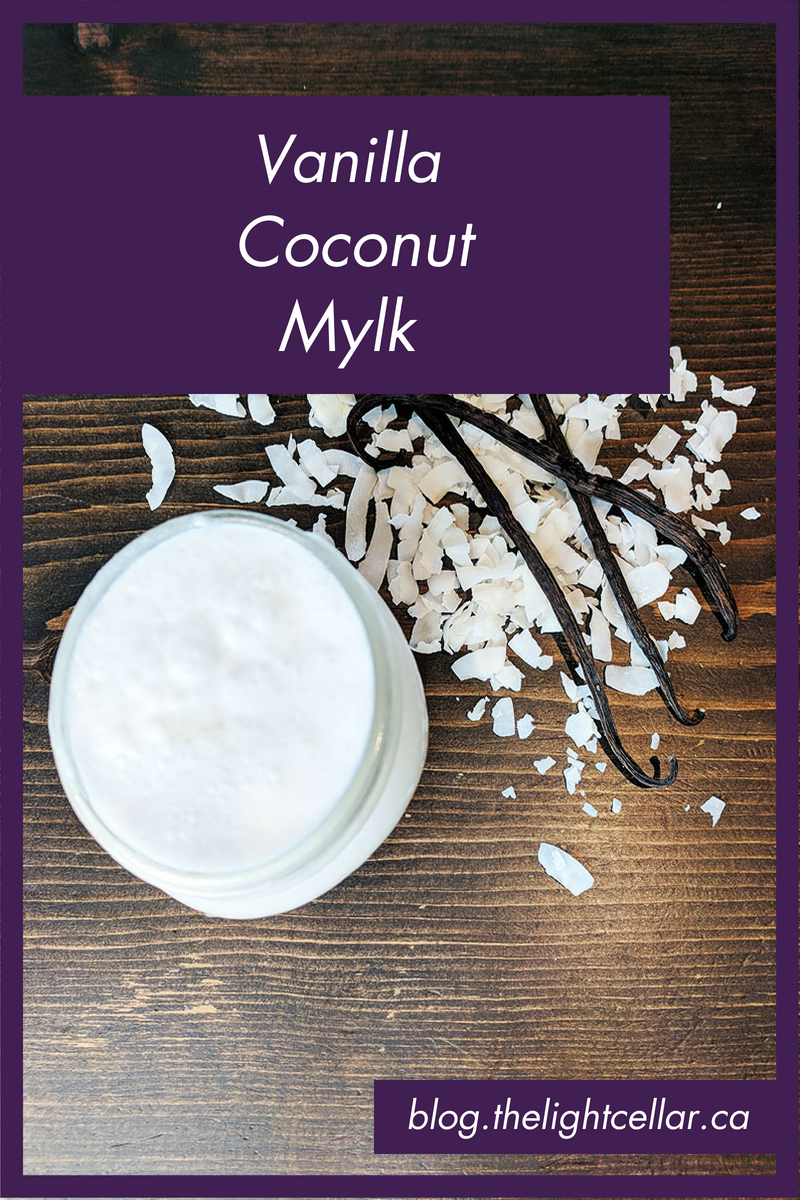 It was in this moment that sparked the inspiration for the coconut butter mylk recipe. I thought "because it was so creamy, you wouldn't have to strain it through the mylk bag"!!! It would be a quick convenient way of making instant coconut mylk!!! Plus it would have all of the benefits of coconut butter!
What are the benefits you ask? Well I am glad you asked!
Fun fact…coconut in Sanskrit is 'Kalpa Vriksha' which means "the tree which provides all the necessities of life". In Malayan it is 'Pokok Seribu Guna' which means "the tree of a thousand uses" and in the Philippines coconut is called "the tree of life"
The majority of the benefits of coconut butter are attributed to its high levels of lauric acid, which makes up about 45-50% of the fatty acid content in coconut butter. Lauric Acid is a medium chain triglyceride found in saturated fatty foods like coconut. Many studies show that it has amazing immune supporting benefits with its antimicrobial and antiviral properties, it has the ability to kill a wide array of harmful pathogenic bacterial or viral hosts. It also helps with antibiotic resistance and can be used in place of antibiotics to treat fungal infections when necessary. Lauric acid also decreases your risk of heart disease by supporting the HDL (good cholesterol) levels, while reducing the LDL (bad cholesterol) levels. The high amount of MCTs in coconut butter also makes it an excellent metabolism booster, aiding in weight loss as this type of fat is burned more for energy. Coconut butter is also high in Iron, making up about 5% of the recommended daily value, which is crucial to the development of red blood cells and adequate supply of oxygen to the body. Another amazing benefit of coconut butter is its high fiber content. Dietary fiber is important to help regulate bowel movements, cholesterol levels and blood sugar levels.
For all of these reasons and more, it is exciting to make a coconut mylk where you don't need to strain out the meat out through a mylk bag in a time consuming process! This mylk recipe is super creamy, super delicious and has all of the fiber, protein, vitamins, minerals and fats that would potentially be lost through the straining process.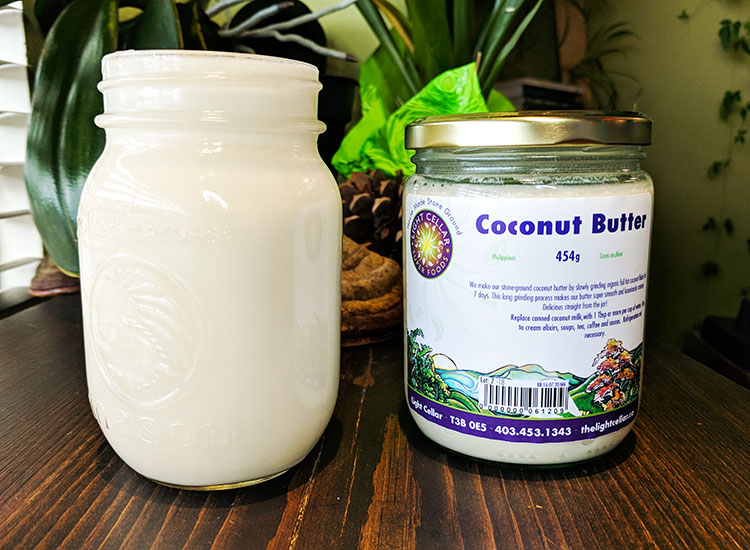 Vanilla Coconut Mylk RECIPE:
INGREDIENTS:
* 250mL Filtered Spring Water
* 3 TBSP TLC Stone Ground Coconut Butter
* 2 Drops of Vanilla Essential Oil (food grade)
* Splash of Honey (optional)
INSTRUCTIONS:
* Put all ingredients into a high powered blender and blend for 3 minutes on high, until well mixed. Chill, pour, serve and enjoy!