Looking for clean, green energy where you will sustain you throughout the day feeling nourished and energized without the crash?
This recipe you are about to learn is a tasty way to enhance your energy while also promoting relaxation!! This Elixir features the antioxidant-rich Matcha green tea as the feature superfood.
Maccha or Matcha is the finely ground chlorophyl and phytonutrient-rich leaves of Camellia sinensis (also known as green tea) that is a wonderful herb that has been used for centuries and offers so many health benefits.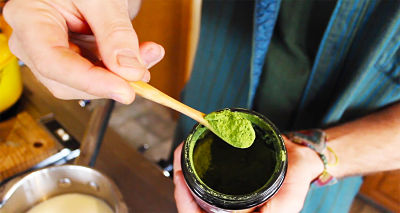 This recipe shows you how to create your own matcha latte with a superfood twist at home.
Watch this video and check out the recipe for all kinds of variations and suggestions to maximize the Elixir to your preferences.
Basic recipe is:
* 12oz Green Qi teafrom Harmonic Arts or any other herbal tea like Nettles or Gynostemma
* 1 Tbsp Coconut Butter
* 1/2 – 1tsp Matcha Powder
* 1 – 2 tsp Moringa powder
* 1 Tbsp Honey or sweetener of choice
* pinch of high quality salt
* Blend together well, pour into your favorite mug, take a sip, breathe deeply, relax and enjoy!