Catching seasonal bugs can often feel like a given reality each year.
But what if you could avoid coming down with one at all, or at least only catch it once a year?
I'm sure you would also appreciate reducing the intensity when you do get sick and being able to recover much more quickly afterwards.
It has been my goal over the last 20 years, as I have explored many different strategies, foods and supplements, to minimize and avoid these dreaded seasonal sicknesses.
What I've found, is that there doesn't seem to be any ONE single magic remedy.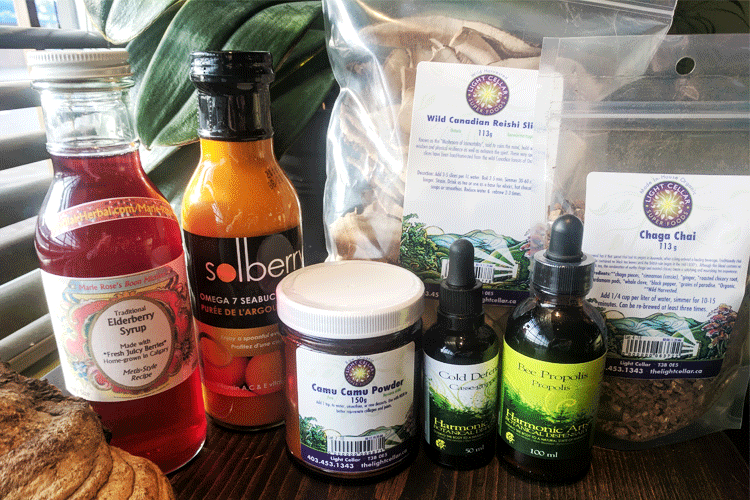 The best approach I have found, in addition to a healthy lifestyle of clean eating, exercise and proper rest, has been to add in certain immune boosting foods such as medicinal mushrooms, probiotic ferments and vitamin-C rich berries like rose-hips and camu camu. As well as taking elderberry syrup, drinking herbal teas, tinctures and broths when you feel like something might be coming on.
However, another very effective remedy I've been using to support my immune system that I'd like to share with you, is a very potent liquid you can shoot as a shot and/or use as a "hot sauce". This is a powerful recipe you can make at home with very common and accessible kitchen ingredients.
From my personal experience I have dubbed it: One of the Most Effective (& Flavourful) Remedies for Cold's, Flu's & more.
It is known in Western herbal traditions as 'Fire Cider'.
This wonderfully delicious & very effective recipe is a kitchen remedy that can be made to suit your tastes and with the ingredients you have on hand. You can get a bonus remedy, by dehydrating the left-overs to yield a powdered spicy seasoning mix you can sprinkle on your food anytime – for extra flavour and good measure!
📖Fire Cider & Seasoning Recipe📖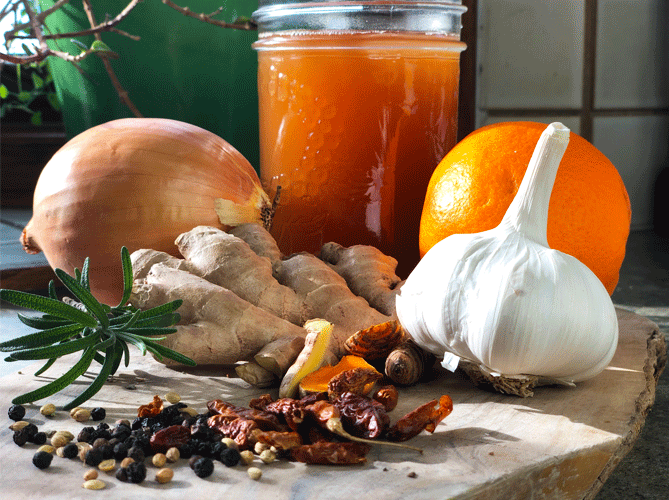 ▶️ 1/2 cup diced onions
▶️ 3-4 Tbsp diced garlic
▶️ 3-4 Tbsp diced ginger
▶️ 1-2 Tbsp diced turmeric (optional)
▶️ Fresh or dried chili's
▶️ Fresh or dried herbs – rosemary, oregano, thyme…
▶️ Spices – coriander, black pepper, etc…
▶️ Raw Apple Cider Vinegar
▶️ 2-3 Tbsp Honey
Optional Additions:
▶️ Slices of citrus like orange or grapefruit wedges (skin on)
▶️ 1/2 cup fresh horseradish root
Further Upgrades & Variations
Use a kombucha or jun vinegar instead of apple cider vinegar
Add in liquid from your probiotic pickle or kraut juice
Use propolis honey or other medicinal honeys for further benefit
Add some superfood, herbal and/or medicinal mushroom powders like chaga, echinacea, camu camu, etc…
How to Prepare:
Pack all diced and chopped ingredients except honey and vinegar in a jar, and press down well. Place a fermentation weight, stone or another smaller mason jar on top of the veggies to hold them down as you pour apple cider vinegar over top so everything is submerged in the vinegar. It is important to have everything submerged under the liquid and not exposed to the air.
Let this sit for 2-4 weeks at room temperature – the longer it sits the better, as all the good, healing properties will be extracted into the vinegar.
Once ready, strain through a fine-mesh strainer or nut milk bag to separate the liquid and plant fiber.
Add your honey to the strained liquid and place in a jar.
This liquid is your 'fire cider' which you can use as a shot or seasoning for soups, salads and sauces.
The remaining plant matter you can use as an addition to soup, or as a fresh minced spicy vegetable paste OR spread it out on a dehydrator or baking sheet, and dehydrate, which you can then powder and use as a seasoning, sprinkling on any dish you want.
Storage – both the fire cider and the powder can be kept at room temperature or in the fridge for months and months at a time.
How to Enjoy:
Fire cider is a delicious addition to any soup, as seasoning in sauces, dressings and marinades or try adding to cocktails like Ceasar's.
Fire cider can be taken as a shot anytime before or with a meal to help increase digestion.
You can take fire cider at the first sign of a cold or flu to help boost your immune system, as well as even when you're sick to help decrease symptoms and shorten the length of your sickness.
Fire cider is so delicious you can simply pour a little in a glass and enjoy straight or add water to dilute.
Fire cider in a tincture bottle is easy and convenient way to carry around your remedy to flavour up your meals out or kept in a bag or purse to dose up throughout the day.
The key to help avoid or reduce colds and flus is to take shots of it regularly throughout the day.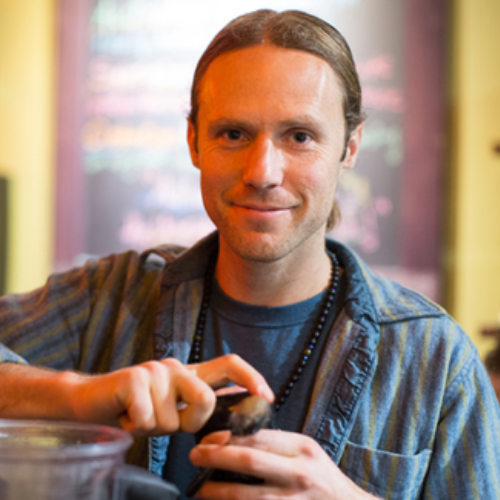 Malcolm Saunders
Malcolm Saunders mission is to help you connect more deeply to your food.
He has worked in the field of food and nutrition for close to 20 years and is the owner & creative visionary of the Light Cellar.
Malcolm is an expert who specializes in sharing the alchemy of superfoods and superherbs. Through his videos, workshops and seminars he has helped thousands of individuals recreate their relationship to food.
You can connect with him in person at Light Cellar in Calgary or on social media through @lightcellar and @themalchemist