Yup, it's that time of year again!
Going back to school!
By Ruby Martin
Between getting signed up for classes, buying supplies, making lunches to go or setting the alarm clock to a time you don't want to wake up. It's a hectic time for teachers, parents, kid and adult students.
Also, the most wonderful time of the year to get sick within days or weeks of steeping into that germ facility. The place where the bad germs spread the fastest, just waiting for you! And if the idea of getting into a new flow again, preparing for what school will bring this year, isn't enough of a stress. Getting sick just makes it worse.
Luckily Light Cellar is here to help!
Our entire shop if filled with super-foods that can help with fighting off colds and flus! So many options, I even had a hard time choosing what to talk about!
In hopes to make it super simple, here is our favorite top 5 super-foods, with on-the-go immune-boosting RECIPES included.
Some sweet tasting, some rich, some tart, some also energizing, but all amazing! You chose what sounds the best to you!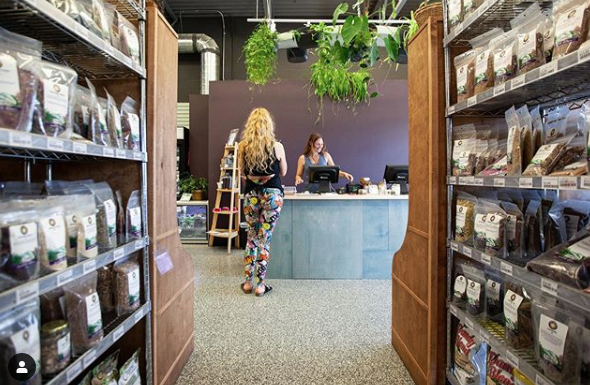 Our Top 3 Favorite immune super-foods
1.Camu camu berry powder
A tart berry that grows in the amazon, known for being the fruit highest in Vitamin C! This is a must and a great go-to. Vitamin C is what everyone is told to take when feeling a cold coming on or while fighting off. It truly works, especially if from a whole food source, like Camu!
 Camu Camu Berry power Smoothie
 1 1/2 cups fresh organic raspberries
 5 soft pitted medjool dates*
 1 teaspoon Camu powder*
 2 tablespoons unsweetened coconut flakes*
 1 cup plain greek yogurt or coconut yogurt
 1 tablespoon lemon juice
 1/2 cup filtered water or coconut water
*available at Light Cellar
Instructions:
Remove pits and chop up medjool dates. Place all ingredients in a high-speed blend and on high until well blended and smooth.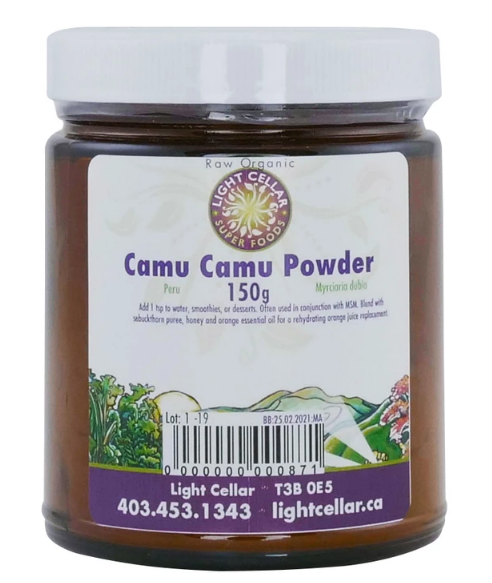 2. 7 Mushroom Blend
Medicinal mushrooms are becoming very well known from research demonstrating their effect on our immunity. This special blend contains: Chaga dual extract, Reishi dual Extract, Lion's mane dual extract, Cordyceps extract, Turkey tail extract, Oyster mushroom extract, Maitake extract.
A powerhouse of mushrooms! With a little going a long way. Add ¼-½ teaspoon to coffee, elixirs, smoothies or soups.
A rich & roasty Elixir
 ¼-½ teaspoon 7 mushroom blend
 1 teaspoon dandy blend
 1 tablespoon cacao paste
 1 teaspoon stone-ground coconut butter
 1 cup hot water • Sweetener to taste (propolis honey would be great here too!)
*available at Light Cellar
Add all the ingredients to a blender. Blend on high until well-blended and smooth. Done!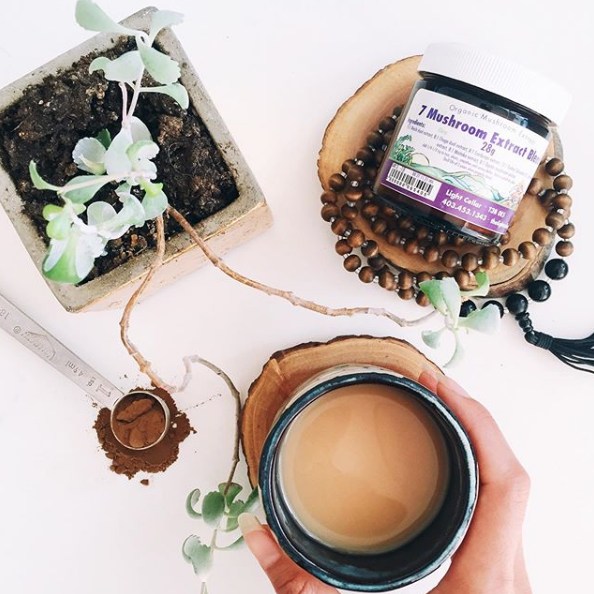 3. Elderberries or Elderberry syrup
 I can't not mention the classic kid friendly Elderberries!
Thought to prevent or shorten the duration of upper respiratory infections. Many people consider the elderberry plant one of the most powerful for preventing and treating colds and swear by it. A plant that's been used for centuries and can be taken in many different ways. Super simple and especially great FOR KIDS!
We have a large selection of Elderberry syrup to choose from!
Also dried elderberries for making tea or other recipes with!
If you find it hard to get your kids to take herbs…. this is an excellent way!
"Instant pot" ELDERBERRY GUMMIES!
Ingredients
1 cup dried elderberries*
4 cups water
2-3 cinnamon sticks*
1 1/2 cups raw honey*
*available at Light Cellar
Instructions for Insta pot:
Place water, Elderberries, and Cinnamon in the Instant Pot
Place your Instant Pot on Manual High pressure for 7 minutes
Do a quick release
Strain with a mesh strainer into a bowl and press berries to release all juices
Let cool about 10-15 minutes
Stir in Honey
Transfer to a mason jar with a lid and store in the refrigerator for up to 2 month
 **** See below for gummy directions.
No Instapot no worries. Stove top directions:
1. Place the water, elderberries, cinnamon sticks into a medium pan
 Heat over medium heat until boiling. Reduce heat and cover. Simmer for 1 hour, stirring occasionally, reducing the liquid by half
Remove from heat and allow to cool at room temperature for 10 minutes. Pour the warm elderberry liquid into a mesh strainer (over a bowl to catch the liquid). Using the back of a large spoon, mash the elderberries into the bottom of the strainer to squeeze out the juice. Discard the contents left in the strain
Cool the liquid for an additional 15 minutes at room temperature. Add the honey and stir well. Transfer to a glass container or mason jar with a lid and store in the refrigerator for up to 2 months.
*See below for gummy directions.
How to make the gummies:
3/4 cup organic unsweetened apple juice chilled
 1/4 cup chilled elderberry liquid you made
2 scoops Vital Proteins Beef Gelatin powder*
*available at Light Cellar
1. In a medium sauce pan, add the apple juice and elderberry liquid. Sprinkle the gelatin on top and let sit for 2 min
2.  Place on stovetop under medium/low heat, uncovered. Stir constantly until the gelatin is completely melted (about 2 minutes). Remove from heat and allow to cool before transferring to your favorite molds, filling up to the top
3. Chill for 1 hour or until it's a solid gel, and remove from molds. Store in an airtight container in the refrigerator for up to 2 weeks. Eat 2-3 per day. Note: If you don't have silicone gummy bear molds, you can pour mixture into a small glass baking dish and cut into desired pieces once set.
Enjoy! 
 If you ever wanted to swing by in store for our Elixir bar, ask for a latte with camu camu or add an upgrade of the 7-mushroom blend to any Elixir on the menu! 
 Pick up all your super-foods and leave feeling happy and inspired!
 Good luck with all things back to school and fighting off those bad germs! You got this!
 With Light,
 Ruby
 P.S. A whole lot of these superfood are available on our webstore too! Go to www.lightcellar.ca
† The statements throughout this site are not intended to diagnose, treat, cure or prevent any disease. Individual results may vary. Seek the advice of a competent health care professional for your specific health concerns. If you have a medical condition, taking medication or are pregnant please consult your health care provider before use. If any negative or unusual reactions occur discontinue use and consult a health care practitioner. Information on this site is for educational purposes only.]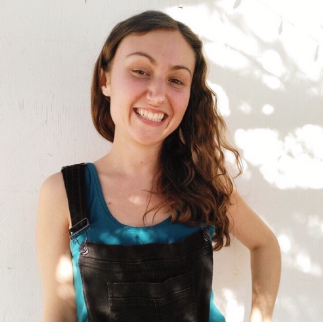 About the author:
Ruby Martin 
Practical Herbalist. Passionate Gardener. Freelance writer.
Creator of Ruby's Healing Garden Inc.
I teach DIY workshops on Herbal Remedies!
The how-to for tea blends, tinctures, herbal oils, vinegar, syrups and salve.
I make a Skin Repair Salve with ingredients grown from my garden!
All available here at the Light Cellar.
My hope is through sharing my Journey, Passions & Garden, it may inspire -you-to live well too.